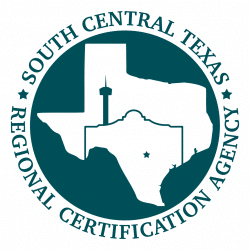 Award of Emerging Small Business Enterprise – ESBE SBE
I am pleased to announce that Chiron K9 was awarded its Emerging Small Business Enterprise certification and holds a Small Business Enterprise certificate.
The South Central Texas Regional Certification Agency (SCTRCA) is a 501 (c) (3) Non-profit Corporation that represents several public entities in the South Texas area. These entities are committed to enhancing participation for Disadvantaged, Small, Minority and Woman-owned businesses in public/government contracting and purchasing activities.
The SCTRCA is committed to ensuring that only firms meeting the eligibility criteria of 49 CFR Part 26 and Part 23 (Airport Concessions) participate in contracting and procurement opportunities as Airport Concessionaire Disadvantaged Business Enterprise (ACDBE) or Disadvantaged Business Enterprise (DBE). A Small Business Enterprise (SBE), Minority Business Enterprise (MBE) and Woman Business Enterprise (WBE) are certified in accordance with the SCTRCA Business Enterprise Certification Policies and Procedures Manual.