I was fortunate to attend a 16 hours Advanced K9 Medics course held in Pennsylvania. The course was theory and practical with a series of final assessments and a written exam.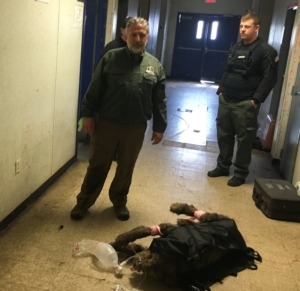 I have completed K9 First Aid training before but what I like about this one was its no-nonsense life-saving skills taught. Enough to save a K9's life, or at least keep it alive until professional assistance is reached.
The training was enhanced by the practical exercises and Techline Technologies ( https://www.techlinetechnologiesinc.com/ ) even had a K9 manikin which was remotely operated. It barked, growled and cried, would breathe, have a heartbeat, pulse, and open wounds, bleeding; all at the control of the instructor. This meant that as the scenario progressed the symptoms changed and tested your casualty awareness and response to the changing conditions. This training alone was of huge benefit as often time training is just one static scenario due to the availability of casualty stimulants. Being constantly tested in all aspects of casualty care meant you were provided realistic training scenarios and testing situations.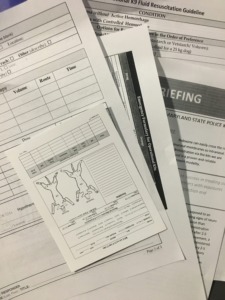 Topics covered:
Understand and explain the differences between human and canine anatomy Understand and
Explain differences between human and canine physiology Demonstrate Knowledge of the phases of care as per the CoTCCC Demonstrate Knowledge of all aspects of Canine "MARCH"
Demonstrate the ability to safely approach and restrain canine using appropriate techniques
Demonstrate the ability to perform a neurological assessment on canine Identify canine IM injection sites
Understand the canine vascular system
Demonstrate the ability to perform an "On the move assessment" Demonstrate the ability to perform a head to tail assessment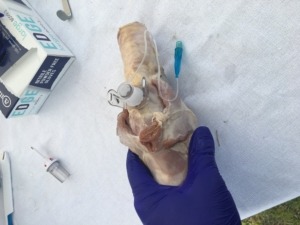 Understand canine's respiratory system
Demonstrate the ability to obtain canine respiration rate
Demonstrate the ability to obtain a canine pulse
Demonstrate the ability to evaluate canine circulation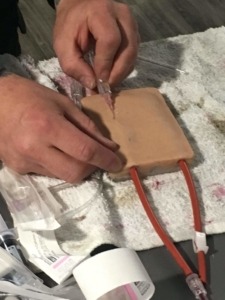 Demonstrate the ability. to obtain canine temperature
Demonstrate the ability to evaluate canine's hydration level
Demonstrate the ability to care for canine minor bleeding
Demonstrate the ability to treat canine thoracic chest trauma
Demonstrate the ability to treat massive hemorrhage in canine Demonstrate the ability to manage a.canine's compromised airway Demonstrate the ability to perform canine CPR
Understand what bloat is and how it affects canine
Demonstrate the ability to treat canine for bloat
Demonstrate the ability to start intravenous access on canine
Demonstrate the ability to gain intravenous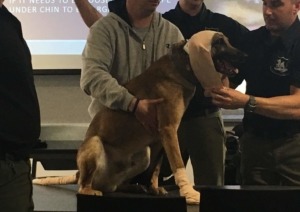 access on canine
Understand heat emergencies in canine
Understand concepts of Evaporation, Conduction, Convection, Radiation, and Activity in canines Demonstrate treatment of heat emergency in canine
Demonstrate appropriate treatment of ocular trauma
Demonstrate appropriate splinting of canine extremities
Understand analgesia considerations and dosages in canine
Understand clinical signs and treatment of toxic ingestion in canines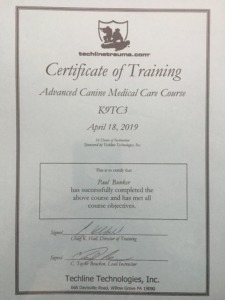 https://chiron-k9.com/wp-content/uploads/2019/04/medic4-scaled.jpeg
1920
2560
Chiron
https://chiron-k9.com/wp-content/uploads/2018/03/ChironK9a-copy-300x260.jpg
Chiron
2019-04-24 18:07:12
2020-03-22 19:59:41
Advanced K9 Medics Course